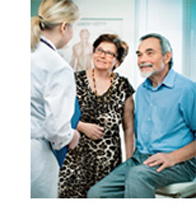 First Visit:
You should plan to arrive fifteen minutes before your scheduled appointment. This will allow time to establish both your medical record and your patient account. Please make sure you have all necessary information with you, including:
• Insurance cards
• Your social security number
• Your driver's license or any valid photo ID
• Medical records from your referring doctor
• Referral Forms
Co-payments or any co-insurance is expected before services are rendered.
Subsequent Visits
Please notify our receptionist of any change in your registration information. Incorrect phone numbers will make it impossible to reach you with test results or to notify you of a change of an appointment time. Incorrect insurance information will delay benefits due under your policy.
Occasional Delays
We make every effort to remain on schedule; however, it is sometimes necessary to meet the needs of hospital or emergency patients. We ask for your patience and understanding should your appointment be delayed.
Designate a Key Contact (Friend or Family Member)
You may want to talk with your family and friends to identify someone who can accompany you to your first visit to help with the completion of paperwork, meet your physician, and take notes about treatment options and future visits.
Naturally, you will be anxious during your first few visits but we are confident you will find our team of physicians, nurses and staff to be like your extended family as well. Having one friend or family member accompany you from time to time gives you added support and confidence.